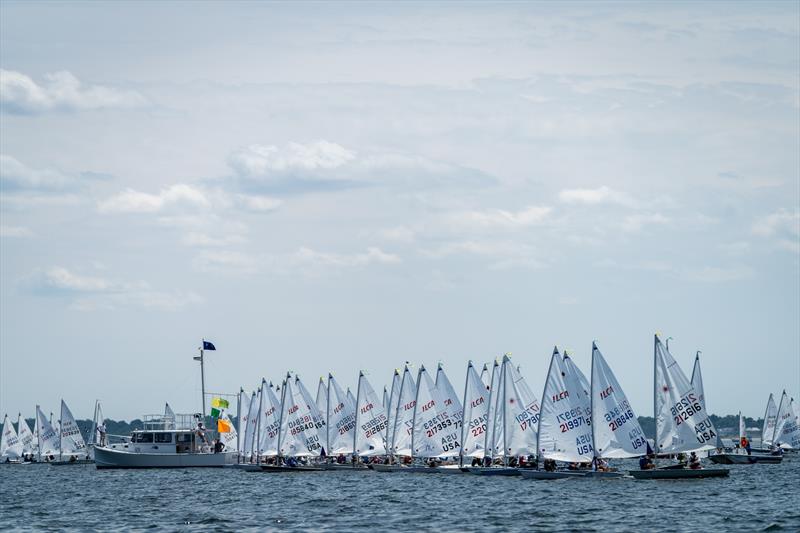 2022 ILCA Atlantic Coast Championship at Larchmont Yacht Club
2022 ILCA Atlantic Coast Championship at Larchmont Yacht Club
by Larchmont Yacht Club Jul 12 08:52 PDT
July 9-10, 2022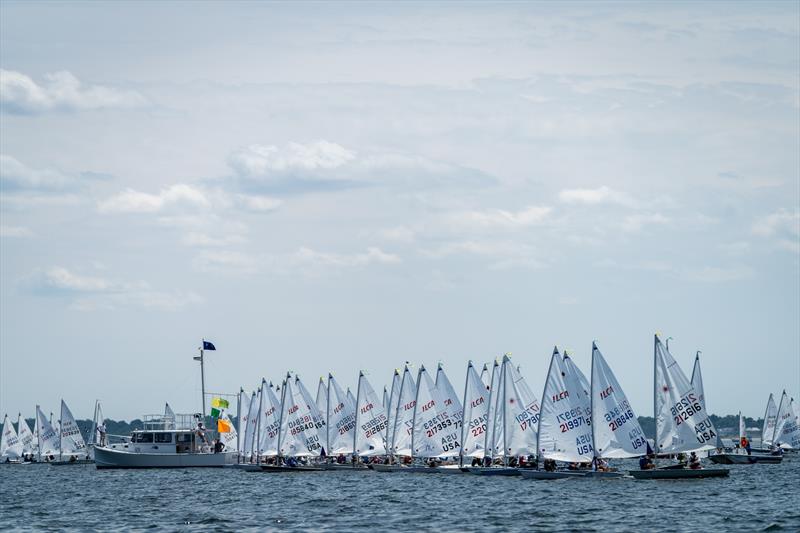 Departure ILCA 6 – ILCA Atlantic Coast Championship 2022 © Doug Reynolds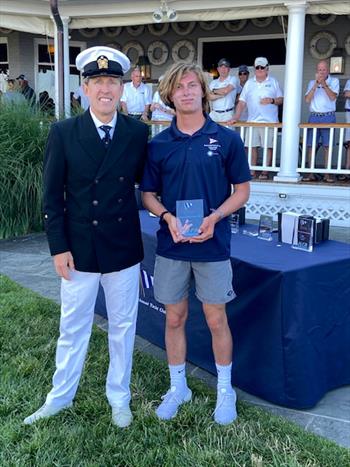 ILCA 6 winner Jake Homberger with Counter Commodore Chris Schoen – 2022 ILCA Atlantic Coast Championship © Buttons Padin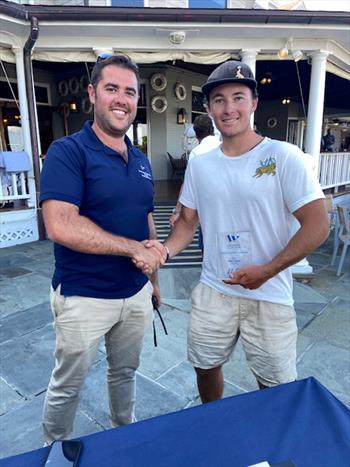 ILCA 7 winner Cambell Patton (right) with Sailing Director Doug Reynolds – 2022 ILCA Atlantic Coast Championship © Buttons Padin

Bidding for the title of ILCA Atlantic Coast Champion, 153 sailors made their way to the Larchmont (NY) Yacht Club over the weekend of July 9-10.
Competitors came from up and down the Atlantic with many clubs from the Long Island Sound area, as well as major contingents from Ft. Lauderdale, Miami and St. Petersburg, FL, Charleston, SC, Annapolis, MD, and more…including Bermudian and European entrees.
The host club, an early adopter of this single-seater in the 70s, renewed its involvement with the ILCA dinghy during Covid when the popularity of single-seater boats soared.
Event Chairman Ned Roseberry commented: "Going into Covid we have seen a resurgence of ILCA sailing at Larchmont Yacht. Now that the Championship is on the books I am sure every competitor has found this competitive and fun regatta. I would also like to share the credit for this outstanding regatta with the club's sailing director and my championship co-chair Doug Reynolds and the dozens of club volunteers and staff."
LYC Commodore Rob Dailey continued: "Next week we will be hosting our 124th edition of Larchmont Race Week, and the club is proud to host major championships at regional, national and international level. In the past, we have run keelboat championships including Etchells Worlds, Star 100th Anniversary, Viper 640, J/105 and J/109 North Americans, dinghy championships including V-15 Nationals and Opti ACC summer, as well as the annual organization of the Offshore Intercollegiate Regatta with the Storm Trysail Club. Hosting the ACC ILCA 2022 fits perfectly with our club's mission."
Saturday's race saw typical July conditions in the Long Island Sound. The winds of around 5 to 6 knots are blowing from the south/southeast. The race committee, led by PRO Jeff Borland (Annapolis, MD), made the most of the day by delivering for each of the three ILCA divisions (4.7, 6 and 7) two races. On Sunday, however, local sailors were heard saying: "It's almost perfect sailing conditions!"
Logistically, the ILCA 4.7 and ICAL 7 divisions had their own start, but the ILCA 6 division, with 97 registered, was divided into four groups with two competing at the same time… giving everyone the opportunity to sail against everybody. otherwise evenly. By 3:00 p.m., four more races had been contested for each, making a total of six for the championship, with a range of challenging water conditions.
In the end, three Champions were crowned: the ILCA 7 Champion was Campbell Patton of the Royal Bermuda Yacht Club (3-(8)-5-1-1-3) in a fleet of 22 competitors, the ILCA 6 Champion was Jake Homberger of the Lauderdale (FL) Yacht Club (1-1-2-3-1 (5)) in a fleet of 97, and the ILCA 4.7 Champion is French sailor Gulda Dondona ((4)-1-4-2-1 -1) in a fleet of 22, from the Cannes Yacht Club.
When asked what he felt was his winning difference, ILCA 7 Champion Patton commented: "Definitely having had regular starts. I executed that pretty well for most races and when I didn't get it. didn't, I struggled, and it was a big catch-up game."
Asked about the need to change gears as the wind speed and direction varied throughout the weekend, Jake Homberg's ILCA 6 Champion shared: "It was all about keeping your head out of the boat and keeping your head out of the boat. 'to be ready for whatever came my way. I mainly worked the Cunningham and sometimes the downhaul to maintain the boat's balance and speed.' Sailing in the smallest division – both rig size and number of competitors, Gulda Dondona shared her view on boat speed: "My boat speed came from being on the comfortable with my boat and that I got to know it during many regattas. Add to that really wanting to win and that's how you gain in performance."
It wasn't the first time PRO Jeff Borland had helped organize a regatta at the Larchmont Yacht Club, having served as a referee for two U.S. Team Racing Championships contested at the LYC.
His take on the weekend's sailing was: "Saturday was extremely difficult for the race committee with the breeze up and down and very striated. It was relatively stable, but it was difficult to get out of fair races Today however the conditions were bubbly with 10-12 knots coming in the pipe so our job wasn't that tough today we had a few shifts and even though that didn't didn't affect our race management much, many competitors were struggling with the tide so they were earlier without acknowledging the tide existed otherwise as I said it was a day of champagne sailing and now as we stand on the porch looking out to the water we see the breeze has flattened out so it's wonderful that we made it to all four races today for a six race championship."